Bob & Beverly Terhune established the Robert A. & Beverly D. Terhune donor advised fund at the Community Foundation of Muncie & Delaware County as a vehicle to help community organizations on a yearly basis. With so much need in the community, the Terhune family felt that grants to local charitable causes was the best way to give back. The foundation has been supportive of the Muncie Children's Museum over many years and extended their generosity with a $250,000 grant for the new interactive weather station exhibit as part of The More to Explore Capital Campaign.
The Terhune's children, Scott, Bob, and Julie, have taken over the process of gathering information and granting awards to various organizations. Julie has really enjoyed the opportunity to learn about many organizations in the Muncie community as well as around the state of Indiana. She said, "There is so much need and sometimes, it is hard to decide where to grant funds." From the beginning, the foundation has supported many causes but has had particular interest in funding things for children. Julie has carried on the legacy of her parents by granting awards to organizations that give children more experiences, a broader background, and give them a good start in life.
Terhune believes that the Muncie Children's Museum fits well into her family's initiatives and "is a hidden gem in Muncie. It is a local opportunity for Muncie & East Central Indiana, a great facility to play, but in the background, children are learning." As a child, Julie does not remember going to a children's museum, but has had fun bringing her great nieces and nephews to the Muncie Children's Museum. She also loves that the museum offers Free Saturdays, on the 3rd Saturday of each month, as it affords a great opportunity for everybody to visit.
The generous grant by the Robert A. & Beverly D. Terhune Fund will support the new weather station exhibit planned to open in 2024. As the Museum surveyed visitors, teachers, and other groups about exhibit topics, weather was a recurring theme. People are intrigued by weather and its impact but Julie finds it exceptionally fascinating. She remembers being terrified of thunderstorms as a child and recalls the times when she was at the lake house with her family. The power would go out during storms and her mother would gather snacks and say "we're going on an adventure."
The weather station is just one of the many exhibits the Muncie Children's Museum has planned for use of capital campaign funds. "I love the personal connection that Julie has with this one and I can't wait for her generosity to impact the children that walk through our doors. For some, their dreams of becoming a meteorologist might start here at the museum," says Ashlee Anderson, Director of Development.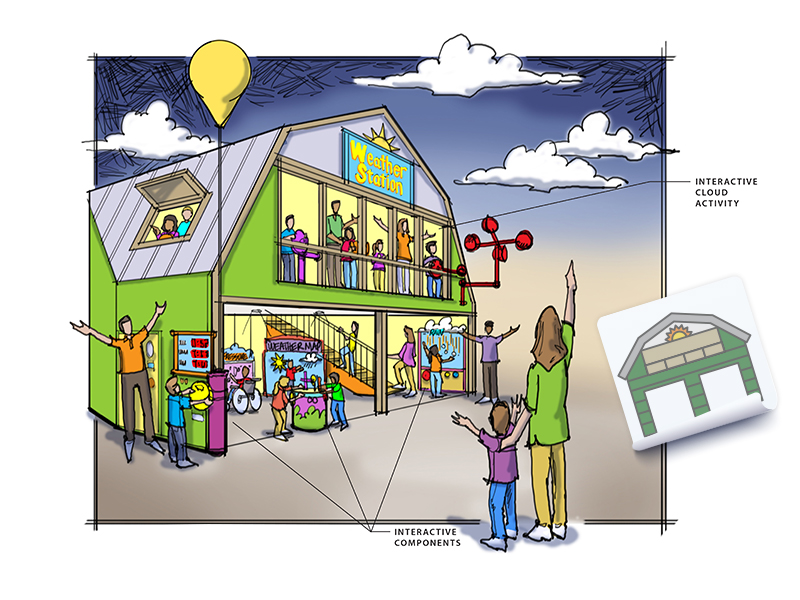 The More to Explore Campaign has currently raised over $2.6 million with a goal of $3 million. To donate or learn about the new water table and other new exhibits coming as part of the More to Explore Campaign, please visit www.moretoexplore.net or contact Kira Childers at kchilders@munciemuseum.com.